VA loans have made homebuying easier and more accessible for generations of Veterans, military members and their families.
Most Veterans are aware of their hard-earned home loan benefit. But far too few know that VA loans allow them to buy a home without a down payment.
A recent national survey found that only 3-in-10 Veterans know they can buy a home with zero down payment.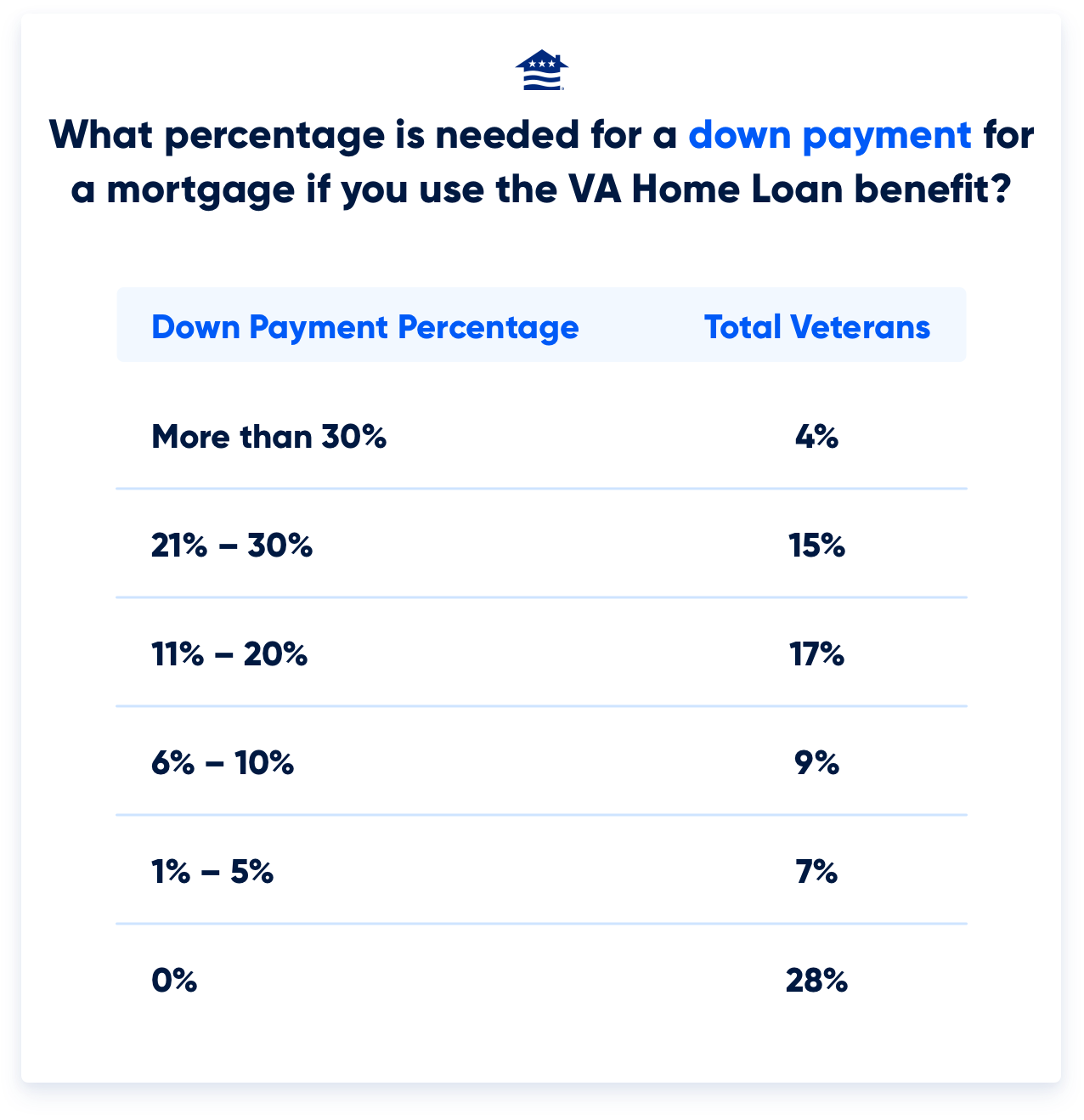 The ability to buy with 0% down is the signature advantage of this nearly 80-year-old benefit program. Eligible Veterans can buy as much house as they can afford, all without the need to spend years saving for a down payment.
About 75% of all VA purchase loans came with zero down payment in Fiscal Year 2022, according to government lending data.
For Veterans in the know, having the choice of buying without a down payment is a major homebuying consideration.

To be sure, not every VA buyer can or wants to go with zero down payment. Veterans also have the option to put down a down payment to potentially reduce their funding fee and lifetime loan costs. But that flexibility can help younger Veterans and military families start building wealth faster, while giving others the option to keep their cash for home improvements or other investments.
Do VA loans require a down payment?
VA loans do not require a down payment as long as you have full entitlement. If you have partial entitlement, you may need a down payment depending on the loan size you're seeking.
How the VA Loan Offers $0 Down
A common misconception about VA loans is that the VA acts as the lender in the VA mortgage process. In reality, private lenders, such as mortgage companies and banks, make the loans while the VA backs a portion against default.
This backing is known as the VA guaranty and provides lenders with a safety net if a Veteran is unable to repay their VA loan.
In short, the VA loan doesn't require a down payment because the VA guarantees a portion of the loan, which protects the lender if the borrower defaults. This guaranty means the lender can offer more favorable terms.
A Veteran's access to this benefit is known as VA loan entitlement.
Down Payments on a VA Loan vs. Other Loan Types
According to the VA, around 80% of Veterans utilizing their VA loan benefits don't put any money down on their home. Similarly, in our Veteran Homebuyer Survey, no down payment was the number one reason Veterans choose the VA loan over other loan types.
But what makes the $0 down payment benefit so powerful? Let's take a look.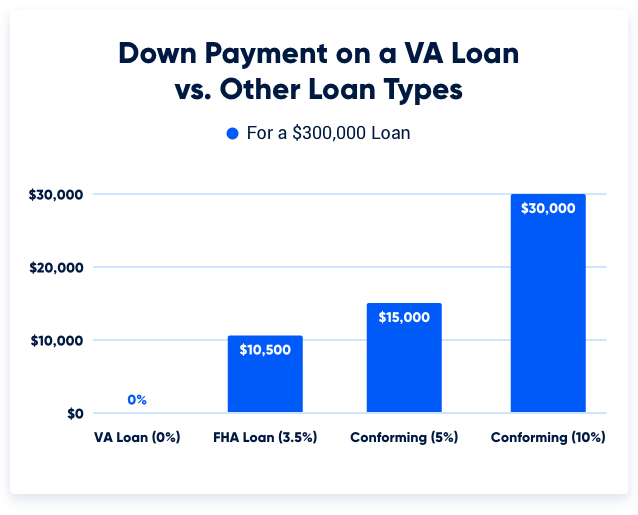 As you can see, down payments add up–and quickly. For many borrowers, making a down payment involves sacrificing another expense. Whether that means dipping into savings or passing up on a car upgrade-–the VA loan doesn't require you to make that sacrifice.
Can I put a down payment on a VA loan?
Putting a down payment on a VA loan is optional as long as you have full entitlement.
Other loan types typically have down payment requirements that cover a certain percentage of the loan amount. With a VA loan, you can take full advantage of your $0 down payment benefit or choose how much you want to put down without breaking the budget.
Is there VA down payment assistance?
The VA doesn't offer a down payment assistance program for the VA loan since most Veterans are eligible to get a loan without putting down a down payment. Though Veterans United does not offer a down payment assistance program, there are certain third-party down payment assistance programs Veterans can use to help with putting down a down payment.

Talk to a loan officer at 855-870-8845 to learn more about how third-party down payment assistance programs work with your Veterans United loan.
Benefits of Making a Down Payment on a VA Loan
You may be thinking, "Why would I put a down payment on my mortgage if it isn't required?"
The truth is providing a down payment is the best option if you can afford it. Down payments are beneficial because they reduce loan amounts, leading to lower monthly payments and better loan terms while also establishing immediate equity in the home.
1. Lower VA Funding Fee
The VA funding fee is a one-time required cost with a VA loan that helps fund the program for future Veterans and service members.
Making a down payment helps offset the funding fee cost since it lessens the loan amount, which reduces the amount of the VA guaranty.
So, the larger the down payment, the lower the funding fee.
The base funding fee is 2.15% for first-time VA loan users and 3.3% for return buyers. Veterans who put at least 5% down can reduce their VA funding fee. Those with 10% can reduce the funding fee even more.
| | | |
| --- | --- | --- |
| $0 Down | 2.15% | 3.3% |
| 5% or more | 1.5% | 1.5% |
| 10% or more | 1.25% | 1.25% |
Let's take a look at how the funding fee changes for a $300,000 home purchase.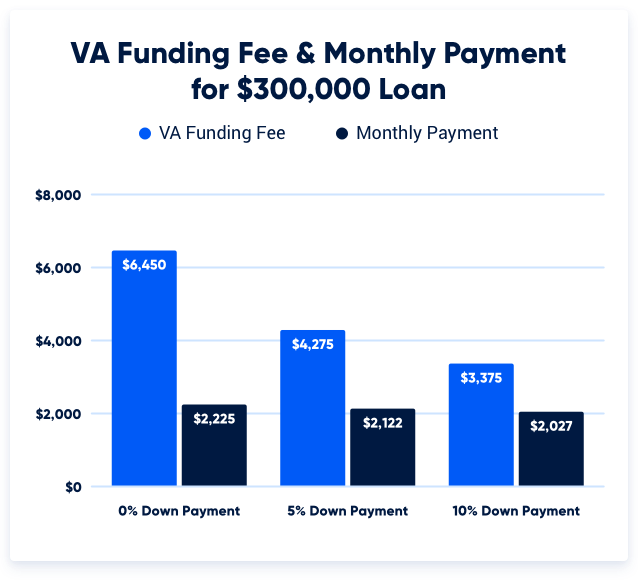 It's important to note that disabled Veterans, Purple Heart recipients and surviving spouses are exempt from paying the VA funding fee.
2. Smaller Monthly Payments
Similar to the VA funding fee, monthly payments on the loan will be lower if a Veteran makes a down payment. You'll be borrowing less money overall, so your total monthly payments should be smaller, and you'll pay less interest over the life of the loan.
3. Build Home Equity
A down payment on a VA loan will help you instantly build equity in your home. Home equity is the difference between what you owe on your mortgage and what your home is currently worth. If the property is worth more than the loan amount, then the Veteran has equity in the property.
For example, if you're buying a home for $300,000 and make a down payment of $15,000, then you now only need a loan of $285,000.
Building home equity is a valuable asset for your future should you ever want to pursue a VA cash-out refinance or make a profit when selling your home.
4. Increased Chance of VA Loan Approval
Making a down payment could also increase your chances of getting approved for a VA loan.
Making a down payment can offset some risks for lenders and potentially increase your chances of VA loan approval.
To be clear, if you don't make a down payment, it will not hurt your chances of approval. Most VA loan borrowers do not put money down.
When a Down Payment is Required on a VA Loan
First-time users of the VA loan and those with full VA loan entitlement can purchase a home for as much as a lender is willing to lend without a down payment. But Veterans without their full VA loan entitlement may need to bring a down payment to the closing table.
The most common reasons Veterans don't have their full entitlement are they either lost a previous VA loan to default or foreclosure, or they want to hold onto a VA-backed home and reuse their benefit.
In these situations, the VA loan limits come into play. These limits aren't a cap on how much a Veteran can borrow but a cap on how much a Veteran can borrow without a down payment. Determining what you can purchase without a down payment or what your down payment would be on a home is a bit math-heavy. You'll also need to know your remaining entitlement. However, a lender familiar with VA loans can help you obtain both figures quickly and easily.
If you're interested in calculating yourself, you can learn more about VA loan entitlement and see example calculations here.
Still Have Questions?
The VA loan program can unlock numerous benefits for Veterans. Let us know if you have any questions regarding VA loan benefits or eligibility. Contact Veterans United Home Loans at 855-870-8845.
If you'd like additional information on the VA mortgage process check out this helpful guide to the VA loan.
Survey Methodology
National survey of 300 respondents, split evenly between active duty service members and Veterans, conducted in October 2023 by data and analytics firm Sparketing on behalf of Mortgage Research Center, LLC.