The University of Missouri and Veterans United Home Loans made Mizzou's November 16th Military Appreciation Game against the Florida Gators extra special this year.
In addition to honoring the Hero of the Game – 99-year-old World War II veteran Harvey B. Young Jr. – Veterans United provided 2,000 tickets for veterans, service members, and their respective guests through the Seats for Service campaign.
"Seats for Service is a small gesture, but it allows us to recognize thousands of deserving men and women and give them the chance to enjoy a great football game," said Brian Butcher of Veterans United.
Hero of the Game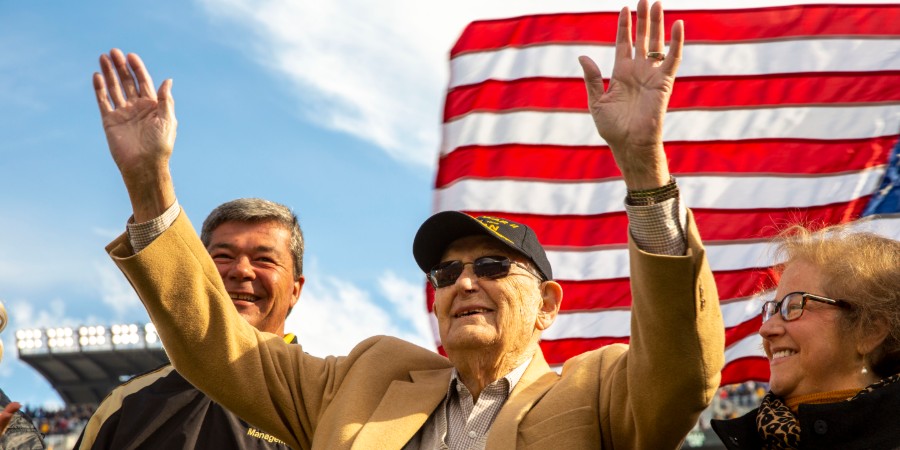 Missouri Governor Mike Parson was in attendance to honor 99-year-old World War II veteran Harvey B. Young Jr. Young received Veterans United's Hero of the Game honor, which includes a commemorative jersey and $1,000 monetary gift courtesy of Veterans United Home Loans and Mizzou Athletics.
Young was a student at the University of Missouri and a member of the Beta Theta Pi fraternity when he enlisted in the U.S. Army in 1942.
While in the Army, Young logged over 1,800 combat hours in C-46 and C-47 aircraft for the 13th Battalion of the Army Air Corps in New Guinea, the Philippines, Guadalcanal, and Okinawa for the Army Air Corp.
Young's squadron's missions included soldier evacuations and medical transportation for wounded service members.
Young left service with the rank of Major and returned to Kirksville, where he still lives today. For more than 40 years, he worked at and owned the Bank of Kirksville.
He is a pillar of the community and still serves on the Board of Directors of several charitable organizations within the community.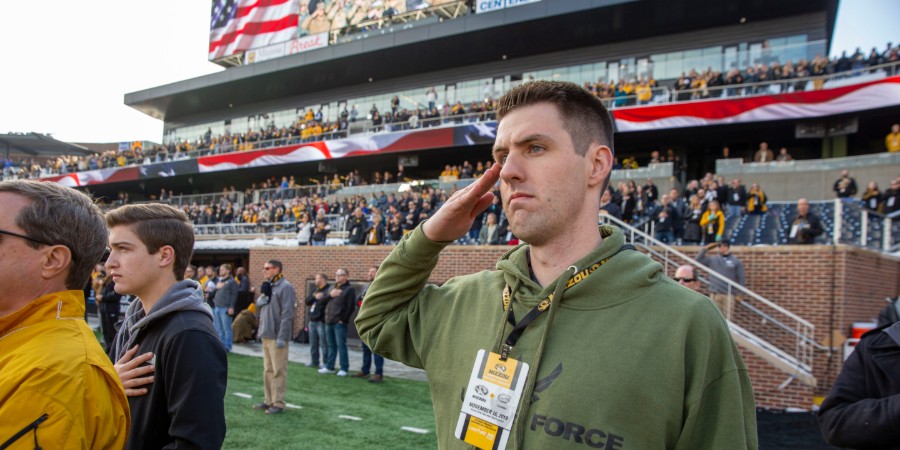 Seats for Service Makes an Airman's Day
Mizzodcast, a podcast specializing in Mizzou sports, posted about the Seats for Service event on Twitter. Airman 1st Class Andrew Snively expressed interest but wasn't able to cover the cost of airfare from Hill Air Force Base in Utah.
The Mizzodcast crew set up a GoFundMe page to get Airman Snively to the game. They hit their goal and flew Airman Snively over 1,000 miles to Columbia, MO and donated the excess to the Gary Sinise Foundation.
"I know it means a lot for all our military service members to be able to come out and see just a game," said Snively. "I'm really thankful to be here and really thankful to Veterans United for getting me out here."