A VA loan is a $0-down mortgage option issued by private lenders and partially backed, or guaranteed, by the Department of Veterans Affairs (VA). Eligible borrowers can use a VA loan to purchase a property as their primary residence or refinance an existing mortgage.
VA loans work similarly to other major mortgage options, with few exceptions. Here we take a deep dive into how VA loans work and 10 facts about VA loans that most borrowers don't know.
How Does the VA Loan Work?
VA loans work a bit differently than conventional mortgages. The Department of Veterans Affairs (VA) does not make or originate loans but backs a portion of each loan against default. This backing, or guarantee, gives private lenders the confidence to extend $0 down financing and advantageous rates and terms.
The VA Loan Process

From a process perspective, VA loans work fairly similarly to most other mortgage options, but with a few caveats.
1. Get Prequalified
Find a VA lender and prequalify to get an estimate of how much house you can afford based on your income, credit, entitlement and other financial factors. Prequalification is a basic first step that paves the way for a much more powerful step – VA loan preapproval.
2. Get Preapproved
Loan preapproval is a major step and puts you in the driver's seat to spring into action when you find a home you love. Lenders will verify income and financial information to get a clear sense of your purchasing power. The end result is receiving a preapproval letter. These letters show real estate agents and home sellers you're a strong and serious buyer who has what it takes to get to closing.
3. Put in an Offer
When you and your agent find the perfect VA loan approved home, it's time to craft an offer and negotiation a contract with the seller. It's important to find a VA loan savvy agent you trust that also knows the ins and outs of VA loans.
4. Go Through the VA Appraisal and Underwriting
Once under contract, your lender will order a VA appraisal of the property. The VA appraisal is not a home inspection, but a VA requirement to ensure the property meets fair market value and the VA's minimum property requirements.

Around the same time underwriters will evaluate your income, financial and related documents along with the appraisal once it's finalized. If everything checks out, you'll be issued a clear to close and move on to your loan closing.
5. Closing
You'll sign all kinds of legal documents and paperwork at your loan closing and get the keys to your new home.
How hard is it to get a VA loan?
For eligible Veterans, VA loans are relatively easy to qualify for due to their relaxed credit score requirements, no down payment, and no maximum loan limit.
10 Things Most Borrowers Don't Know About VA Loans
For the vast majority of military borrowers, VA loans represent the most powerful lending program on the market. These flexible, $0-down payment mortgages have helped more than 24 million service members become homeowners since 1944.
While we can sum up how a VA loan works in a handful of steps, there are many things about VA mortgages that potential borrowers and agents don't often know. Below are 10 facts that can help you prepare to utilize your VA loan benefit.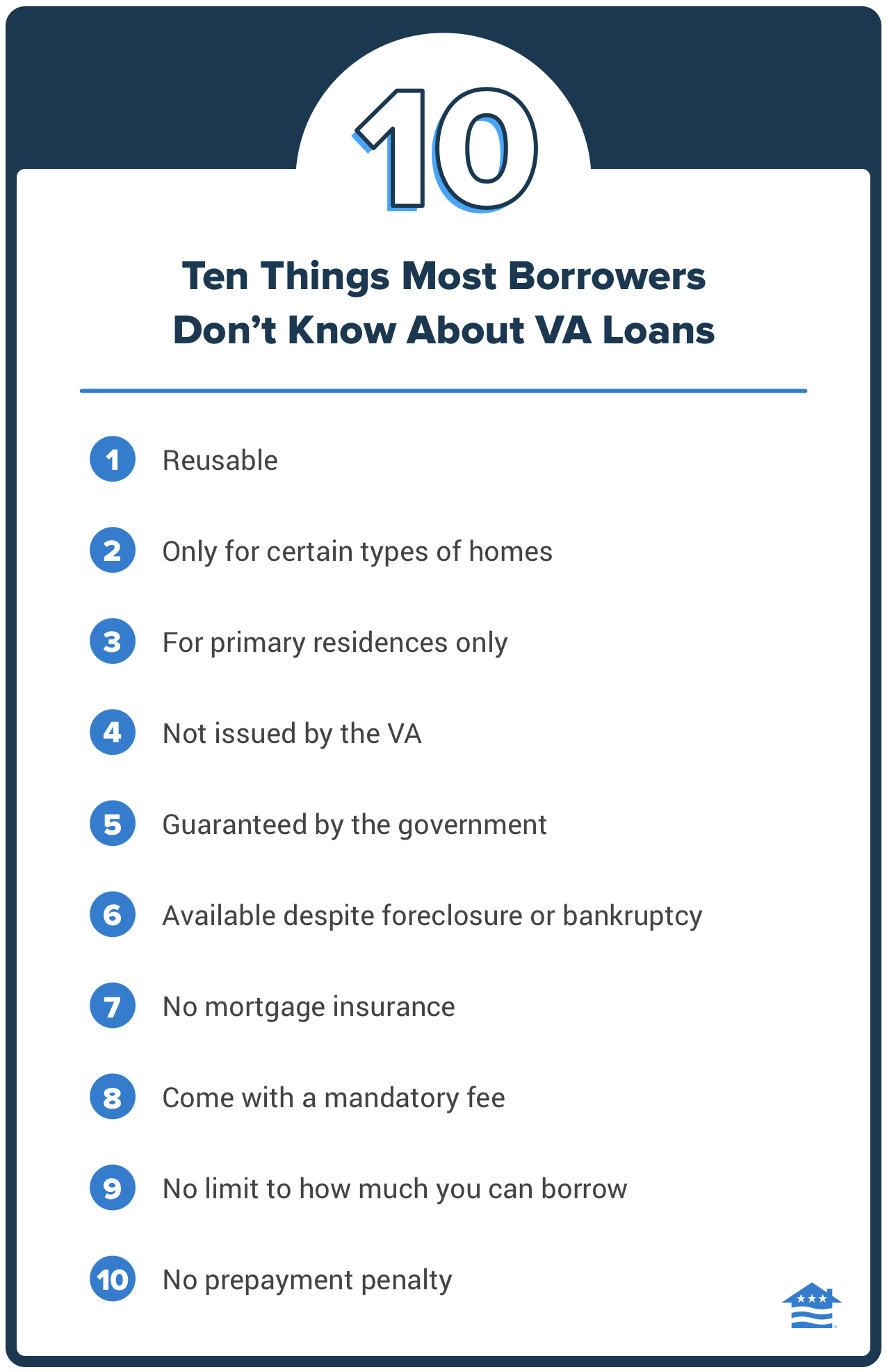 1. They're reusable. You can use your full VA entitlement over and over again as long as you pay off the loan each time. But you may be able to obtain another VA loan even if you've lost one to foreclosure or currently have one.
2. They're only for certain types of homes. If you're planning to buy a working farm, a downtown deli or a fixer-upper, the VA loan may not be for you. It's mainly designed for properties in "move-in ready" condition, including single-family homes, condos, modular housing, some multi-unit properties and more.
3. They're for primary residences only. Don't bother trying to use your VA loan benefits to buy an investment property or a vacation home in the Poconos. VA loans are for primary residences, although you can use this benefit to buy a duplex or another multiunit property, provided you live in one of the units. The VA does offer exceptions, though lenders also have their own standards that might affect occupancy requirements.
4. They're not issued by the VA. The VA isn't in the business of issuing home loans. Instead, the agency provides a guaranty on each qualified mortgage loan.

5. But they're guaranteed by the government. If you have a VA entitlement, the agency typically guarantees up to a quarter of the loan amount. The guaranty gives lenders confidence and helps service members secure great terms and rates.
6. They're available despite foreclosure or bankruptcy. Service members with a history of bankruptcy or foreclosure can secure a VA loan. Even borrowers who have had a VA loan foreclosed on can still utilize their VA loan benefit.
7. They don't have mortgage insurance. Mortgage insurance is a monthly fee you pay with other programs when you're not putting at least 20 percent down. The VA's guaranty eliminates the need for any mortgage insurance or mortgage insurance premium, helping borrowers save even more money each month.
8. They come with a mandatory fee. There's no mortgage insurance with VA loans, but there is the VA Funding Fee. This fee helps the VA keep the program going and is required on both purchase and refinance loans. It can be rolled into the loan amount and waived entirely for those with service-connected disabilities.
9. There's no limit to how much you can borrow. With the VA loan benefit, qualified Veterans can borrow as much as a lender is willing to give them, all without the need for a down payment. That's obviously a huge benefit. Conventional loans often require at least 5 percent down, but down payments on larger loans can easily reach 15 to 20 percent. A 20 percent down payment on a $400,000 house is $80,000.
But what about the VA's loan limits? These aren't a cap on how much you can borrow. Instead, lenders and the VA use these county-level limits to determine what kind of down payment might be needed for Veterans without their full VA loan entitlement. Buyers with their full entitlement don't have to worry about these limits or the need for a down payment.
10. They don't have a prepayment penalty. You can make extra payments any time you want, saving you a boatload in interest over the life of your loan. You can even structure your payments to automatically deduct a little extra every month. Just an extra $100 per month can shave years and tens of thousands of dollars from the balance.